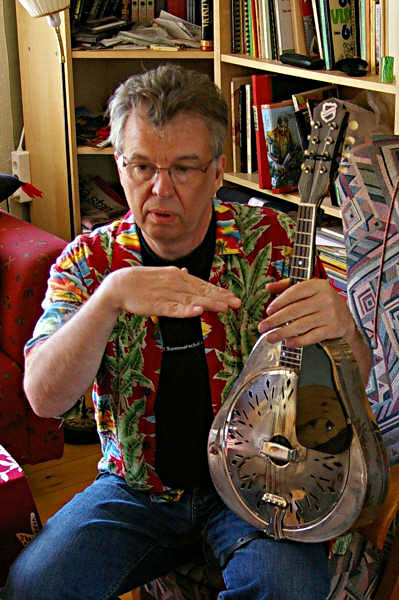 En humla brummar in genom den öppna altandörren. Det är det enda som stör friden i ekobyn på Mjölnartorpet, och det passar den musikaliska mångsysslaren Bert Deivert utmärkt. Sedan 1995 har han nog med oväsen ändå.
Bert Deivert är inte något vardagsnamn i underhållningsbranschen, men i de kretsar som intresserar sig för klassisk blues är han ett respekterat namn. Han började sin musikerbana i San Franciscos tidiga 70-tal, när han läste till en mastersexamen i filmskapande vid San Francisco Art Institute.
– Jag var gatumusiker för att finansiera mina studier, berättar Bert. Och en dag när jag spelade träffade jag Kerstin. Jag var trött på USA, så när jag var färdig med mina studier följde jag med henne hem till Värmland.
För en nyutexaminerad 23-årig amerikan var det inte lätt att få jobb i Sverige. Bert skrev teatermusik, frilansade med blues och irländsk folkmusik och inledde bland annat ett långt samarbete med Janne Zander, då i bandet Buddy and the Rock Rats. Två söner, Seamus och Finn, kom till världen i skarven mellan 70-tal och 80-tal, och 1991 fick Bert anställning som ansvarig för filminstitutionen vid dåvarande Högskolan i Karlstad. 1992 gifte Bert om sig med Eva och de fick dottern Emmy.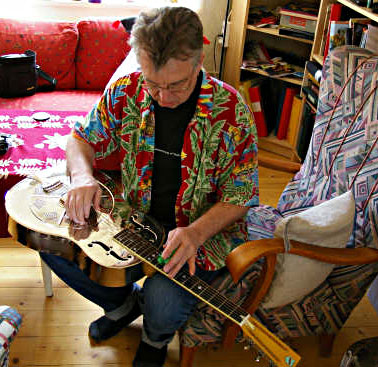 Men allt skulle förändras dramatiskt en dag 1995. Bert var på väg till USA för sin pappas begravning. På Arlanda jobbade man med reparationer vid en pelare, och en krutladdad bultpistol avlossades i Berts närhet. Två gånger träffades Berts hörsel av 140 decibel. Sedan det ögonblicket har tinnitusen förföljt honom dag som natt. Det gick inte längre att leva ett normalt liv. Bert försökte jobba, men blev bara sämre. Med tre-fyra timmars sömn per natt gick det inte att vara kvar på Högskolan. Till slut återstod bara förtidspensionering och ett liv med begränsningar. Men musiken blev kvar som en nödvändig drivkraft att gå vidare.
Genuin 30-talsblues av de gamla mästarna, spelad på tidsenliga instrument har varit Berts musikaliska huvudspår sedan han som 16-åring hörde Son House på tv. Han har en armada av akustiska instrument, med förkärlek för mandolinen. De flesta av Berts mandoliner och gitarrer är av resonatortyp, en konstruktion som skapades i slutet på 1920-talet för att förstärka akustiska instrument utan elektricitet.
– Mandolinen är inget vanligt bluesinstrument, säger Bert. När jag besökte en festival i Clarksdale i Mississippi nyligen så väckte jag intresse och det var inga problem att träffa folk att jamma med.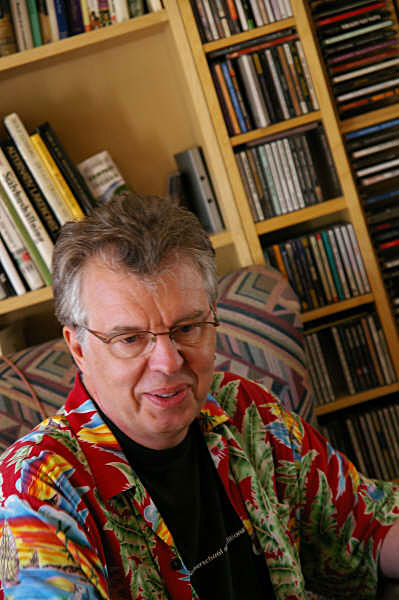 Efter ett års arbete kommer i mitten av juni Berts första cd under eget namn. Han har valt ut några favoriter ur den äldre bluesen som får en personlig tolkning. Med på skivan finns bland andra gitarristen Janne Zander och Baba Blues-trummisen Dan Magnusson, liksom dottern Emmy på sång, Nina Anderberg på fiol samt Peter Case, en kollega från tiden på San Fransiscos gator. Allt är finansierat av Bert själv, med samma attityd som präglar hela hans hållning till musiken – "a labor of love".